If you have an application or project that calls for a quality side-folding full enclosure security grille, you won't find a better option than the model 679 from Overhead Door Corporation. This side-folding full-closure grille provides full security against theft and debris while providing visibility and full ventilation. We can offer full-height solid aluminum panels to slide into aluminum hinges if no visibility is desired aluminum panels to slide into aluminum hinges.


Ideal for retail applications in airports, malls, and other areas, this product line is designed for maximum dependability and uses quality materials. Panel options include:
- Tempered glass
- Clear polycarbonate
- Perforated steel
- Aluminum
Multiple Features and Options
The security grille model 679 is available in either standard-body or wide-body configurations, and both use top-mounted, heavy-duty aluminum sections. The curtain frame uses truss-like aluminum top and bottom plates of 1/8th inch thickness.
Door options include custom radii and curves, thumb-turn guards, and vertical adjustments for upward and downward.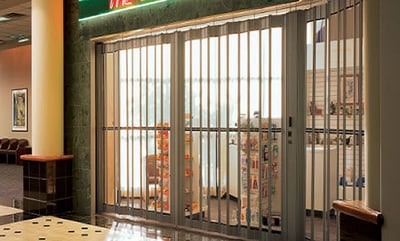 Side-Folding Full Enclosure Security Grille
Post types and locking mechanisms include:
Lead post: Hook lock using a wall channel with bi-part, top, and bottom shoot bolts; Lock with concealed cylinder-operated hook lock (accessible from interior and exterior)
Intermediate post: Bottom shoot bolt; Lock with concealed cylinder-operated hook lock (accessible from only one side)
Trailing end post: Traveling, fixed, hook lock and wall jamb, top and bottom shoot bolts, carrier; Lock with attached 10' max. (3048 mm) protection plate self-locking into a steel V-Stop
This model has more than 215 color options for its powder-coat finish, and custom color-matching is available.
The model 679 series is just one of many great solutions you will find for your commercial doors and security grilles needs. In addition to superior design and workmanship, you'll find we provide quality installation and ongoing maintenance that will ensure years of durable and problem-free use. The unit is also protected by a 24-month OEM limited warranty.


Other Side-Folding Security Grille Models
Click on any of the images below to learn more about other side-folding security grilles that are available at Overhead Door Company of the Meadowlands & NYC.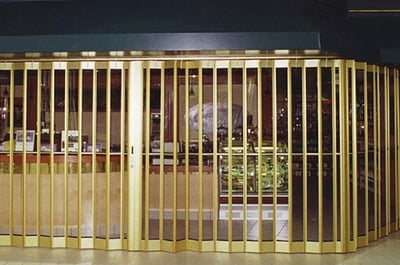 Side-Folding Full Enclosure Security Grille Models 675/677/678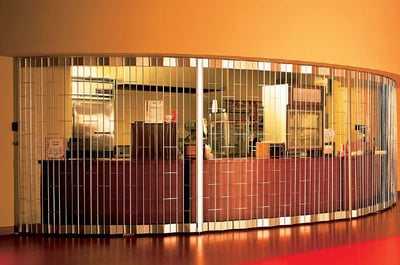 Side-Folding Open Air Security Grille Models 681 - To Maximize Air Circulation
We service Northern New Jersey (Bergen, Passaic, Union, Essex, Morris, Hudson, Somerset county/counties), Manhattan, New York City, Brooklyn, Queens, Staten Island, Bronx, Westchester, and Rockland.