If you have a need to select doors for you parking garage, warehouse, or loading dock, you'll be surprised at your many options. A great deal of technology and experience goes into designing and producing today's roll-up doors and security grilles.
This means you are able to select just the right roll-up door to meet your requirements and budget for any project. At Overhead Door Company of The Meadowlands & NYC we work closely with each client to make an initial assessment of your needs. Once we have that basic understanding, we can help you select the right solution for your:
High Speed Doors
Rolling Steel Doors
Rolling Aluminum Doors
Rolling Doors
Counter Doors
Fire-Rated Doors
Fire-Rated Doors
Security Grilles
Not only do you have these initial choices for your closure needs, you have a lot of options for each door. For example, you can choose the finish for most doors, the type of lift mechanism (manual push up, electric motor driven, or chain-hoist) and the slat configuration, among other variations.
Affordability without Compromise
When you are making decisions about your roll up doors, it is vital to consider all the factors that make those doors right for your specific needs. Our firm provides the services, installation, maintenance and repairs that keep commercial overhead doors and industrial roll up doors and loading dock equipment operating the way they are designed to.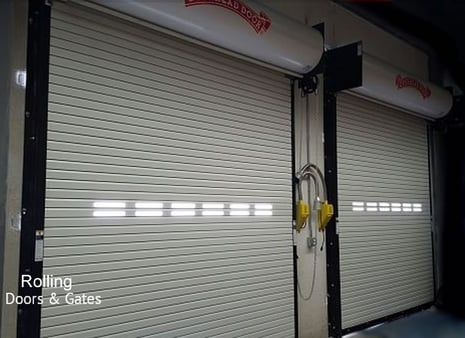 Whether you need high speed doors to accommodate thousands of cycles each month or fire retardant doors for special applications, our team will help you choose the right solution for the highest long-term reliability and return on your investment. We can even help you with side closing doors if your situation requires them. Don't settle for less when you can have the best in Queens from Overhead Door Company of The Meadowlands & NYC.
To learn more about other options, check out our product catalog and choose the right commercial door and dock for your facility. Spend some time looking at the sectional doors, rolling steel doors, other industrial doors and the accessories like commercial operators that you can find at the Overhead Door Company of The Meadowlands & NYC. You will appreciate not only our amazing selection but also the level of customer service and care you receive from our team of overhead door experts. You can also read other entries in our blog.
For more
information
, please give us a call at 973-471-4060 or email us at:
info@dockndoor.com
We service Northern New Jersey, Manhattan, New York City, Brookln, Queens, Staten Island, Bronx, Westchester and Rockland.