If you use doors in a high-demand environment such as chain stores, other retail, and hand cart traffic, you know you can't compromise on quality and reliability. You can't afford any delays in traffic or productivity, and that means your doors must work every time every time with no interruptions.
That is the premise behind the design and construction of Perma-Tech traffic doors, one of the preferred vendors of our team at Overhead Door Company of The Meadowlands & NYC. Every aspect of these doors reflects years of experience as a leading provider of specialty and roll up doors.
For example, the Perma Uni-Swing Door is built without mechanical fasteners that can wear down over time. This insulated door provides a full 1-3/4" thickness for maximum performance. Other unique features incorporated into this unit include:
Cam action opening on impact and automatic closing without any power assist

Unitized construction with ABS plastic and chemical welds provides maximum strength in a lightweight insulated door

Materials that are fully FDA/USDA approved
Functional and maintenance-free appearance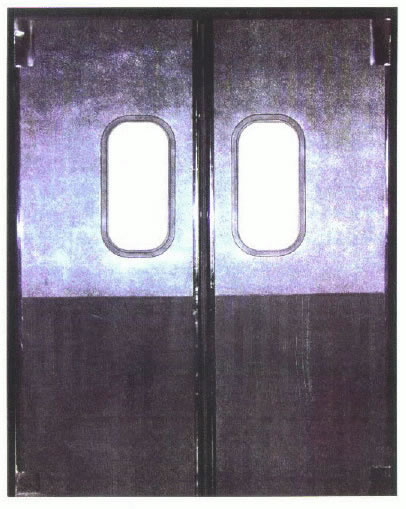 In addition to these standard features that set the Perma Uni-Swing apart from other doors, you get a number of useful options to meet your specific requirements. Depending on your application, you can choose from:
Options for wear panels, kickplate and bumpers

Multiple colors and finishes

Full perimeter air seal package
When it comes to selecting a high-traffic insulated door that boasts of the optimal balance between appearance, durability, low maintenance and lifetime costs, you won't find a better alternative than the Perma Uni-Swing.
Don't miss out on the opportunity to work with the area's most knowledgeable supplier of rolling doors, overhead doors, loading dock equipment and other specialized doors. The team at Overhead Door Company of The Meadowlands & NYC will walk you through all your options and help you find the best solution to your specific needs.
For more information, please give us a call at 973-471-4060 or email us at: info@dockndoor.com We service Northern New Jersey (Bergen, Passaic, Hudson, Union, Essex, Morris, Hudson, Hunterdon, Middlesex, Mercer and Somerset county/counties), Manhattan, New York City, Brooklyn, Queens, Staten Island, Bronx, Westchester and Rockland.