If you live or work in an area where a property requires protection from high winds and hurricanes, we have an ideal solution to protect windows and overhead doors from storms.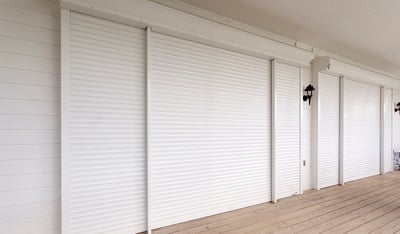 Stormsafe Shutters
Stormsafe Shutters by QMI
Stormsafe roller shutters are a great choice for businesses that want powerful storm protection. These shutters shutters are specially designed to blend into a building's architecture. Stormsafe shutters can be opened and closed with the flip of a switch. A battery operated system is also available in case of a power outage.
The Stormsafe unique design allows the shutters to roll up into the smallest housing box available in the industry. These shutters are engineered to protect both, large and small windows and doors. Rolling shutters also protect against water infiltration during hurricanes and strong storms, therefore reducing the occurrence of mold and mildew.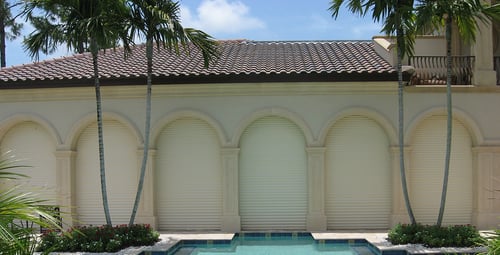 Hurricane-Rated Shutters
Just a few of the unique features you get with Stormsafe hurricane-rated shutters include:
- Powerful storm protection
- Five control options
- Battery operated system available
- Hurricane-approved
- Prevents water damage
- Smallest box housing in the industry
Stormsafe roller shutters are attractive solutions that also save on energy costs, and these superior shutters provide years of reliable, hassle-free performance for your properties.
When you need rolling door or hurricane-proof door solutions, call on the pros at Overhead Door Company of The Meadowlands & NYC. We're here to help you gain the security and protection you demand and deserve with turnkey service from selection to installation to ongoing maintenance.

Click here to learn about other commercial and industrial hurricane-rated garage doors available in NYC & NJ.
For more information, please give us a call at 973-471-4060 or email us at: info@dockndoor.com
We service Northern New Jersey (Bergen, Passaic, Hudson, Union, Essex, Morris, Hudson, Hunterdon, Middlesex, Mercer and Somerset county/counties), Manhattan, New York City, Brooklyn, Queens, Staten Island, Bronx, Westchester and Rockland