Loading dock operations are a critical part of the operations of many firms. Whether shipments go out and come in once or twice a day or a 24/7reality, delays represent unacceptable expense and disruption.
Because of this central role played by loading docks, a major effort by many suppliers has produced a number of very useful pieces of equipment. For example, the loading dock leveler significantly expands the functionality and flexibility of the standard loading dock and makes operations more efficient.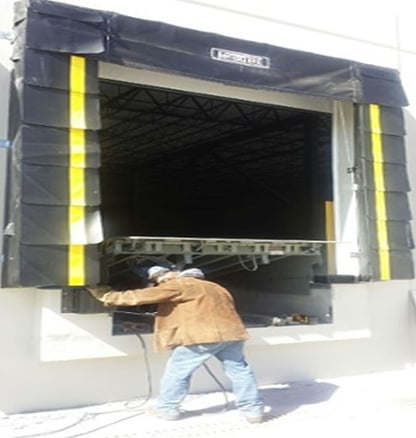 With the right kind of loading dock leveler there is a wider range of trucks and vehicles that the dock can easily service. Additionally, there is enhanced safety and productivity when such a dock is installed and maintained properly. The concept of a dock leveler is so useful there are now a number of options to match your company's specific needs. These include:
Ensuring Long-Term Durability and Reliability
Whatever type of loading dock leveler and loading dock equipment you choose, there are a number of basics that will make your decision better over the long-term. These include:
Select the right manufacturer. A number of firms have jumped into the market for loading dock equipment without the right experience, expertise or capabilities. At Overhead Door Company of The Meadowlands & NYC we work only with proven vendors who focus on quality in the design and construction of each item of equipment.
No compromise on installation. It takes meticulous attention to the specifications and standards of manufacturers, and we have factory-trained, experienced installers who get the job done right the first time.
Provide proper maintenance. The old proverb about pay me now or pay me later fully applies to loading dock equipment. Whether you have heavy demand or just periodic shipments, regular maintenance by qualified personnel is the best way to guarantee safe, long-term use of your loading dock leveler.
When your equipment requires maintenance or has been damaged, one call to our 24/7/365 support team at Overhead Door Company of The Meadowlands & NYC will address your needs promptly and efficiently.
For more information, please give us a call at 973-471-4060 or email us at: info@dockndoor.com We service Northern New Jersey (Bergen, Passaic, Hudson, Union, Essex, Morris, Hudson, Hunterdon, Middlesex, Mercer and Somerset county/counties), Manhattan, New York City, Brooklyn, Queens, Staten Island, Bronx, Westchester and Rockland.
For 24 hour emergency service, please contact us at 800-362-6367.