While it is easy to take your traffic doors for granted, they play an essential role in keeping your products protected and ensuring an efficient work flow. If you expect reliable and long-term durability, you'll find the Perma Flex is the ideal solution.
Designed and manufactured by the loading dock professionals, Perma Tech, this is an industrial door that gets the job done. The 1 and ¾" insulated core door performs superbly in the most demanding environments, including warehouses, super markets, and manufacturing facilities.
Operators in these high-traffic environments utilize mobile dollies, hand trucks, fork lifts and other equipment that punish access doors. However, the Perma Flex is designed with such heavy use in mind, and the innovative use of flexible rubber components ensures the Perma-Flex traffic door stands up to years of use and abuse.
In addition to providing temperature controls with its full insulation, the Perma Flex protects separate spaces from dust and dirt, provides a filter for air, and helps attenuate workplace noises. Its rugged construction allows workers to come and go without any waiting or delay in their traffic flow.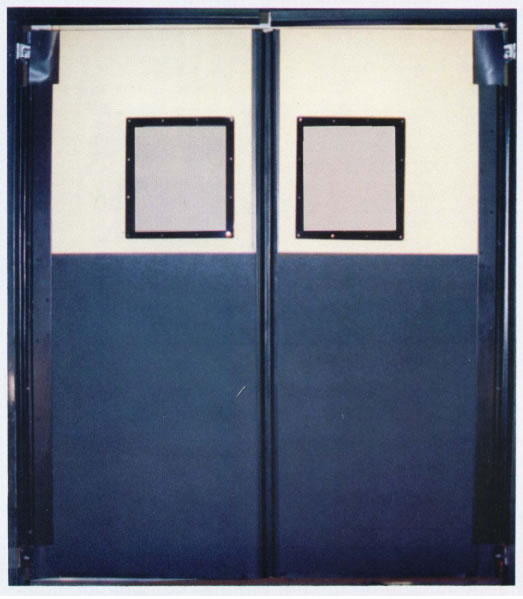 You simply can't find an alternative traffic door with all the features of this proven industry-leading door. These include:
Efficient cam action that opens on first impact and closes automatically without any power assist
Use of materials that are FDA/USDA approved and selected for their ability to withstand punctures, tears and abrasion, long-term and frequent impacts.
Multiple options for colors and window design to fit virtually any work environment
Perma Flex traffic doors are customizable to your specific needs, including the addition of options for even heavier duty applications.
Call on the pros at Overhead Door Company of The Meadowlands & NYC for all your traffic door, loading dock doors, and rolling door needs. We'll help you find the most efficient and affordable options.
For more information, please give us a call at 973-471-4060 or email us at: info@dockndoor.com
We service Northern New Jersey (Bergen, Passaic, Hudson, Union, Essex, Morris, Hudson, Hunterdon, Middlesex, Mercer and Somerset county/counties), Manhattan, New York City, Brooklyn, Queens, Staten Island, Bronx, Westchester and Rockland.
For 24 hour emergency service, please contact us at 973-471-4060.