If your operations have heavy-traffic applications, you may find Strip Doors are the most efficient way to handle the demand. However, if you want real solutions that last for the long-term and provide the lowest lifetime costs, not just any strip door will do.
At Overhead Door Company of The Meadowlands & NYC we work with only industry-leading companies that provide innovative and reliable solutions to your traffic-control, loading dock, and security needs. This includes companies such as Perma Tech, a premier manufacturerwith extensive experience in all aspects of loading dock and related equipment.
The strip door systems developed and manufactured by Perma Tech utilize high-quality PVC and custom configurations to provide you with an affordable solution to meet your specific needs and requirements. Whether your application is for loading docks, trucks, or interior areas, you will find Perma Tech provides just the right configuration with all necessary mounting hardware and installation instructions.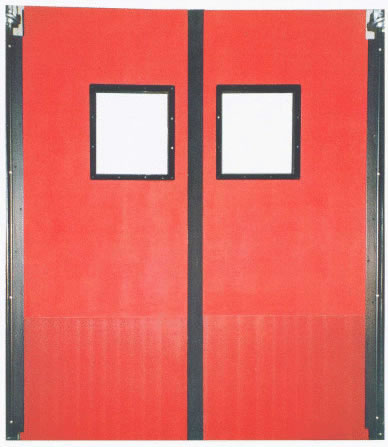 The unique benefits of strip doors include:
Full visibility to all traffic
Environmental control without mechanical or electrical devices
Long-term reliability and bare minimum maintenance
Enhanced safety and efficiency of operations
When you turn to the professionals at Overhead Door Company of The Meadowlands & NYC you can rest assured you will have access to all the best options for dealing with traffic flow in your facilities. We understand the unique needs and trade offs between rolling doors,overhead doors, strip doors, and all other traffic control options.
If you need more protection than available with strip doors, we can demonstrate proven effectiveness of the Perma Flex insulated coreswinging door.
Take the guesswork out of your traffic door selection and give us a call. We can install custom strip doors or help you find the right solution to meet your budget and traffic door needs.
For more information, please give us a call at 973-471-4060 or email us at: info@dockndoor.com We service Northern New Jersey (Bergen, Passaic, Hudson, Union, Essex, Morris, Hudson, Hunterdon, Middlesex, Mercer and Somerset county/counties), Manhattan, New York City, Brooklyn, Queens, Staten Island, Bronx, Westchester and Rockland.