Balancing security, convenience and costs for protecting your vehicle is a challenge that is easily met with the right Rytec door. Whether you have a large collection of collectible automobiles, have a fleet of corporate cars, or simply want to protect your family auto from the weather and vandals, we can help you find the perfect rolling door solution at Overhead Door Company of Meadowlands and NYC.
We are proud to provide you with a wide selection of Rytec rolling doors for your parking and garage needs. Rytec overhead doors are designed and constructed to provide the security you want along with long-term and dependable service. You will find quality Rytec rolling parking doors that range from manually operated overhead doors for a small garage up to the very best high-speed, high-performance Powerhouse® SD model.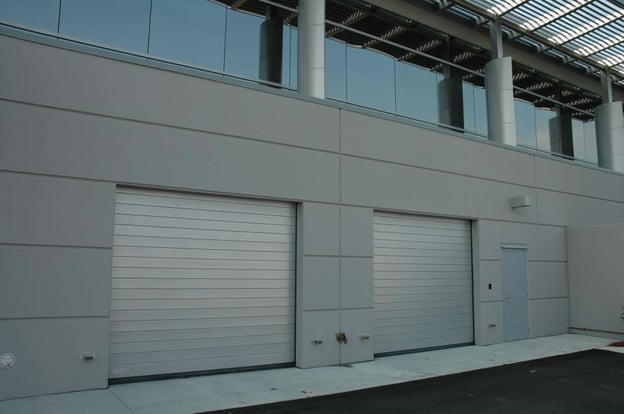 The innovative options and models you will find in Rytec designs include:
Fast-Seal® rolling doors that can take an impact without affecting performance
PredaDoor® NXT® – this best-selling overhead door delivers high-speed operation and unequalled performance thanks to its proprietary NXT Quick-Set™ repair system and System 4® features
Spiral® FV® – One of several models in the Spiral® series, these doors offer shatter-proof and transparent Lexan slats to provide maximum security along with visibility.
If you are in need of a rolling door for one vehicle or a full fleet, we can help you personalize a solution that meets your specific requirements and budget. Not only do we offer a complete selection of overhead doors and rolling doors, we ensure your parking garage door is installed to exactingfactory specifications. You will get long-term and reliable perfomance from these rugged doors, and we offer superior maintenance and support to help your rolling door operation in top-notch shape.
For more information, please give us a call at 973-471-4060 or email us at: info@dockndoor.com We service Northern New Jersey (Bergen, Passaic, Hudson, Union, Essex, Morris, Hudson, Hunterdon, Middlesex, Mercer and Somerset county/counties), Manhattan, New York City, Brooklyn, Queens, Staten Island, Bronx, Westchester and Rockland.
For 24 hour emergency service, please contact us at 800-362-6367.