Side folding grilles offer many security benefits, some of which you've never even thought of! For the curious or the unconvinced, this post lists out 12 of the top benefits.
Top 12 Benefits of Side Folding Grilles/Doors



Some areas just don't have the right layout to afford a big, heavy door that closes at night. Yet certain high-value businesses such as banks, jewelry stores, document printers or electronics shops, to name a few, still need heavy security during off hours to protect against vandalism or theft.
Enter the side-folding door or grille, which you can install easily, requiring only a small amount of wall space for anchoring on each side. It provides top-notch protection for valuables and sensitive information, but opens and closes easily so any employee can operate it. These doors provide a versatile solution for inner spaces, such as those inside malls or hotels, as well as outer exits, and work for retail, industrial and commercial settings of all kinds.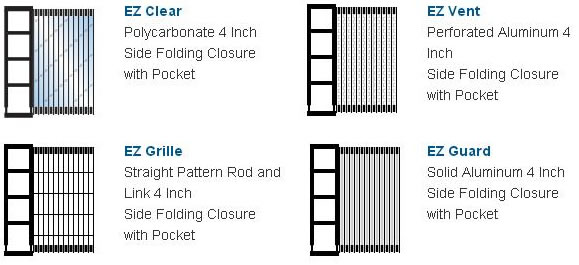 EZ's Side

Folding by Overhead Door has a clear anodized aluminum pocket door with turn catch that gives a modern commercial finish. Rolling/Coiling leaves a gap in the ceiling.

EZ's Side

Folding by Overhead Door requires zero floor space when built into 6 inch stud wall.




EZ's Side

Folding by Overhead Door has a steel framed pocket that can support headers for smaller openings-the only "headers supporting"

Side

Folding Grille/Door in the industry.




ADA locking height is standard at 42 inches - perfectly in line with the ADA standards of 15 inches off the floor to no higher than 48 inches. Rolling/Coiling locking is on the bottom bar, on the floor.

Side Folding Emergency Egress Door has true push - outward action, Rolling/Coiling goes up - does not meet outward requirement code

Side Folding can flow almost any layout that can imagine i.e. special radius curves, neo-angels, circles - Rolling/Coiling can only be straight. Overhead Door is the only company that makes special curves "in house" in just days - not weeks.




Inside or outside comers do not need post/column when using Side Folding, keeping the opening clear from obstacles of view, Rolling/Coiling will always require post/columns.

Side Folding can be 100's of feet wide without support posts. Rolling/Coiling as with corners need support post/columns to make large straight layouts.

Side Folding requires only 1 1/2 inches of headroom for the track and never requires a bottom track. Rolling will require 10 to 20 inches headroom.




Servicing

Side Folding Security Grille/Door will only require dropping on piece of track from the ceiling-Rolling/Coiling may require removal of the ceiling area entirely around the counterbalance assembly to service the product.

Side Folding never needs motor assisted operation, no matter the size, even over 100 feet wide. Rolling/Coiling will need a motor over 16 feet wide.

Any width Side Folding can fit i almost any high-rise buildings freight elevator, Rolling/Coiling is limited if the Grille/Door is wider than 10 feet, it will not fit it in most freight elevators and would require a major cost to install on the higher floors.
You can find more information here.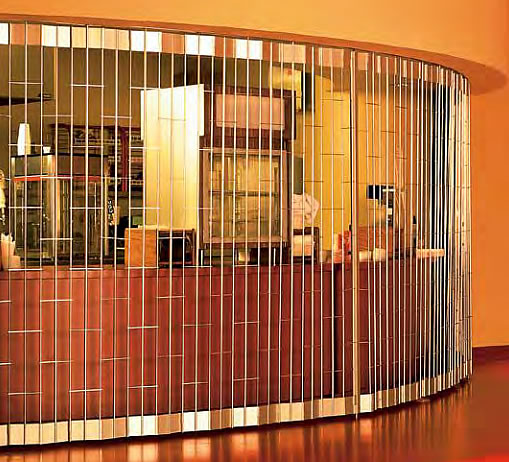 For more information, please give us a call at 973-471-4060 or email us at: info@dockndoor.com
For 24 hour emergency service, please contact us at 1-201-273-7619
We service Northern New Jersey (Bergen, Passaic, Hudson, Union, Essex, Morris, Hudson, Hunterdon, Middlesex, Mercer and Somerset county/counties), Manhattan, New York City, Brooklyn, Queens, Staten Island, Bronx, Westchester and Rockland.