Your insulated rolling steel door has many important parts. These all come together to help the door work as it should, allow for easy access to your loading dock or garage area and protect against fluctuating outdoor temperatures. However, one part you may not think about are the insulated rolling steel guides.
What Do Insulated Rolling Steel Guides Do?
If your door does not have insulated guides, it is much easier for wind to get into your indoor space as well as for the air that you keep cool or warm per your specifications to escape. The simple addition of insulated rolling steel guides can greatly reduce the amount you spend on utilities each month. Plus, adding insulated rolling steel guides can often make the operation of the door a bit quieter—which can be vitally important in some particular situations.
How Does Installation Work?
Installing insulated rolling steel guides is a job that requires expert attention to detail. If the right guides are not chosen and properly installed, the door will never function as it should. An overhead door expert should come to your place of business, check out the door you want to upgrade and work with you to decide the best course of action. After the guides are installed, you will not notice a difference in the operation of the door—it will still open and close just as quickly and accurately as it ever did.
If you have any further questions about insulated rolling steel guides or any other aspect of your rolling steel door, do not hesitate to contact us at The Overhead Door Company of the Meadowlands and NYC. Our team of garage and overhead door experts is always happy to help you with repairing or improving your current doors or making the decision about when the time is right to replace your door with something new.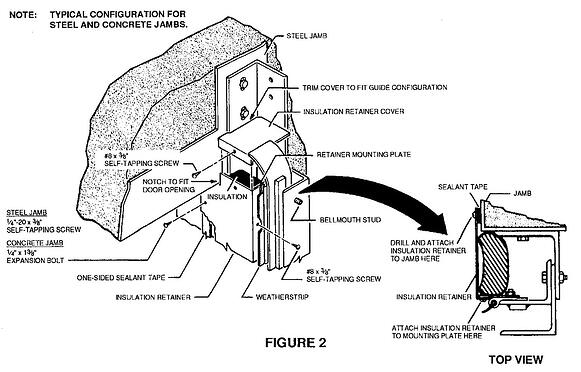 For more information, please give us a call at 973-471-4060 or email us at: info@dockndoor.com
24 HR Emergency 1-201-273-7605
We service Northern New Jersey (Bergen, Passaic, Hudson, Union, Essex, Morris, Hudson, Hunterdon, Middlesex, Mercer and Somerset county/counties), Manhattan, New York City, Brooklyn, Queens, Staten Island, Bronx, Westchester and Rockland.