Rytec Spiral High-Speed Parking Garage Door
High traffic situations call for a high-speed door. However, to obtain that high speed, you do not want to sacrifice security or good looks. Luckily, the Rytec Spiral high-speed commercial garage door can easily meet all your needs at a price that is comparable with other high-speed rolling steel doors.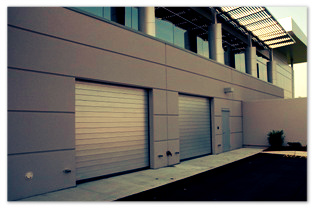 Rytec Spiral high-speed door
This door offers and opening speed as high as 60 inches each second. This is a must in high-traffic areas, such as when you require an overhead door for a parking garage or other area. However, the speed is variable and you can program the opening and closing speed independent of each other to optimize traffic flow. Few doors offer this type of flexibility, let alone with the ability to reach these high speeds.
The Rytec Spiral garage door is one of the most secure and durable. The opening mechanism has no metal to metal contact. The rollers in the track offer a whisper quiet opening, making this door a great option in spaces where a loud, clanging opening would be a burden. As far as durability, the reinforced hinges, durable membrane and high-quality seals offer 100% protection against dust, pollution and drafts. The anodized aluminum will not corrode—offering you a door that will look great for years to come in even the worst weather conditions. As an added benefit, the motion control and programmed opening width can provide energy savings too.
Finally, the good looks of this commercial garage door sets it apart from other similar doors. The crisp lines, modular construction and good looks will be perfect in many situations. When you need this or any other commercial overhead doors, call The Overhead Door Company of the Meadowlands & NYC and let us discuss the options you have available for you.
For more information, please give us a call at 973-471-4060 or email us at: info@dockndoor.com
24 HR Emergency 1-201-273-7605
We service Northern New Jersey (Bergen, Passaic, Hudson, Union, Essex, Morris, Hudson, Hunterdon, Middlesex, Mercer and Somerset county/counties), Manhattan, New York City, Brooklyn, Queens, Staten Island, Bronx, Westchester and Rockland.