Loading Dock Safety
If you own a business with a loading dock or shipping department, you probably have a lot of concerns about safety. If you are careful, you can avoid injuries and property damage. However, you can add to the overall safety of this area of your property by purchasing and properly installing the right equipment and safety devices. Learn more about some of the important additions you can make to your loading dock and then consider calling or contacting Overhead Door Company of The Meadowlands & NYC. and allow us to help you with the purchase and installation process.
One type of accident that can occur is when a forklift, cart, or other wheeled device hits the edges of the dock or door. Installing dock bumpers, dock and door guards and other similar items can make this less dangerous. You may be able to avoid some of these bumps to begin with if you have the proper lighting by using dock lights. Another issue that can cause wheeled-vehicle bumps is an unleveled dock area. Using rail dock levelers or other types of dock levelers give you a smoother drive while using truck trailer stabilizers can also help. Finally, using ground-level lifts along with your loading ramps can help when you have heavy loads to move.

Another danger is from inclement weather or insects. This type of danger is more likely to damage your goods and property than hurt humans. Protect your property by using dock seals, and door seals. These will insure that no water or insects get inside your building. Utilizing dock shelters or dock canopies will keep the outdoor areas dry and can prevent slip and fall accidents.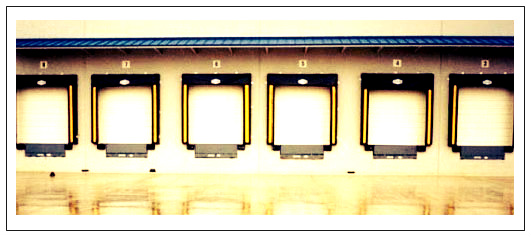 As you can see, there are many dangers around the loading dock. Spend some time learning about the ways you can prevent accidents through the addition of some simple safety devices. In many cases, this is an investment that will save you an extensive amount of money in the long run.
For more information, please give us a call at 973-471-4060 or email us at: info@dockndoor.com
For 24 hour emergency service, please contact us at 1-201-273-7445.