Overhead Door of The Meadowlands & NYC
Overhead Doors
Did you know that Overhead Door Corporation's founder, C. G. Johnson, invented the upward-lifting garage door in 1921 and the electric garage door opener in 1926? Today, Overhead Door is one of the most-recognized and -respected brands in
the garage door industry.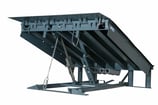 Loading Docks
Loading dock, Inc. offer loading dock seals and dock shelters, dock bumpers, canopies, dock levelers, dockboards, scissor lifts, ramps and many other products designed for the modern loading dock.
Project Resources
If you're a commercial architect, we've compiled our comprehensive resources to simplify your project.
Conveniently download drawings and specifications directly to your desktop.